Created:
2014-08-11
4:34 pm
When a spill occurs, it's vital to know exactly what your spill control mechanisms are able to handle. As almost every spill pallet, drum bund or drip tray will have a different sump capacity, it's practically impossible to know, off the top of your head, how much of a spill can be managed effectively. Enter encapsulated data plates.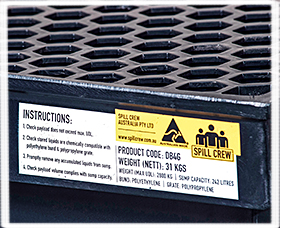 When it comes to drum bunds, spill pallets and spill trays, our customers have often complained that they can never remember the bund or tray volume on which they are storing drums, IBCs, tanks or machinery on.
It's usually during a site audit, or when a drum has leaked and overflowed over the bund wall, that it's realised the drums, tanks or machinery being stored had a greater volume than the sump capacity.
To solve this common issue, we designed data plates to permanently display the relevant information.
We were pretty certain that stickers would simply peel off in our hash Australian conditions, so we moulded a data plate into the polyethylene that is encapsulated within the walls of our drum bunds, spill pallets and spill trays.
To avoid compatibility issues, the data plate states the materials used in manufacturing. They also clearly state load-bearing capacities and bund volumes, along with a set of instructions prior to use.
To prevent payload accidents and spillage due to overflowing bunds, several mining companies have now made encapsulated data plates a requirement on site.